One Mission • One Team • One Covenant
As the region's largest non-profit provider of care services, we invest back into our communities through special programs designed to support patients and families at every step of their journey.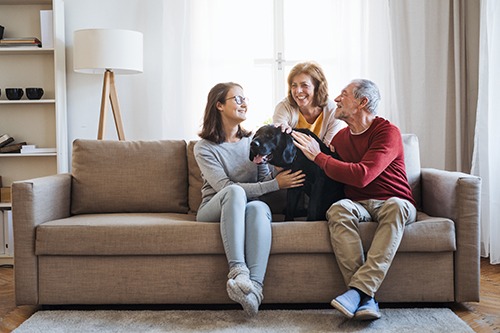 One Mission • One Team • One Covenant
We are a family of individuals united by a single set of shared mission, vision, and values covenants.
Created from the Heart
We walk alongside our patients and families, sharing our support as well as our services. Our special programs are created to address the emotional and mental needs of patients and their families that often fall outside standard health care services. We've created programs for children, veterans, caregivers and families in the communities we serve.
My Wish is a very special program that makes wishes come true for seriously ill patients and their families. From dinners to weddings, we work with our communities to identify patients and make wishes come true!
Camp Connect is a day camp that helps children cope with grief and loss by providing coping tools and connections with other children in similar situations.
Covenant Veterans Care is a program honoring each veteran patient for their service to our country. As the region's only Level 4 We Honor Veterans partner, our veteran patients receive the recognition they deserve with a ceremony and farewell salute.
Partners in Care: Together for Kids is a program that supports children diagnosed with a life threatening illness. This program provides extra services for children and adolescents while they keep the medical care provided by their own doctor.
Bereavement & Spiritual Care services are an integral part of our patient and family care. These services provide peace and comfort during the patient journey, and are integral in providing emotional support to families following the loss of a loved one.
Project Lifesaver provides an Alzheimer's patient with a watch-sized transmitter, emitting a 24-hour-a-day signal. If the patient wanders, Covenant Care, in partnership with local law enforcement and trained search-and-rescue teams, use the mobile locator tracking system to quickly and safely find the patient.
Respite Care Through Covenant Care's Respite Care Support Fund, families caring for a loved one with Alzheimer's or dementia can request financial aid support for respite care. We help ensure the safety of your loved one while you take a much needed break.
Impact Report
Across Central and South Florida, new branch locations were opened making Covenant Care one of Florida's largest nonprofit providers of Hospice, Home Health, Memory Care, Palliative Care and Private Duty services. To provide expanded services, we welcomed over 140 new employees, enhanced community partnerships, and expanded connections with donors and community leaders.
Today, we serve nearly 30,000 patients and families annually,  providing a continuum of care to the sickest and most vulnerable in our communities. 2020 was an important step in the continued development of our mission to improve more lives, setting a course of sustained strength and growth.
Through adversity, Covenant Care continues to rise to the occasion and answer the call to serve more families when they need us most. I invite you to enjoy our 2020 Impact Report to learn more."
– Jeff Mislevy, CEO, Covenant Care
The feelings of loss following the death of a loved one can be overwhelming and confusing for children. Through our children's bereavement program, Covenant Care provides comfort and reassurance to children who have suffered a loss. Our trained specialists offer child-specific counseling, support groups, literature and community education on children's grief issues.
Covenant Care created My Wish to help local patients and families make the most of their moments together. Its our mission to make wishes come true for hospice and seriously ill patients, adding life to their days and making special memories for their families. We work with generous individuals, families, companies and foundations to support the wishes of our patients.
Camp Connect is a bereavement day camp for children ages 6-17 who have suffered a loss, or those who have a terminally-ill loved one. Utilizing confidence-building exercises and artistic activities, Camp Connect gives children the opportunity to explore and express their emotions, equips them with a better understand of their grief and offers ways of coping with their feelings – all while making connections with others who have experienced a loss.
Covenant means promise, and our promise is to help you make the most of every moment. We will provide expert, compassionate care, no matter what challenges you are facing.