Be rewarded for a lifetime.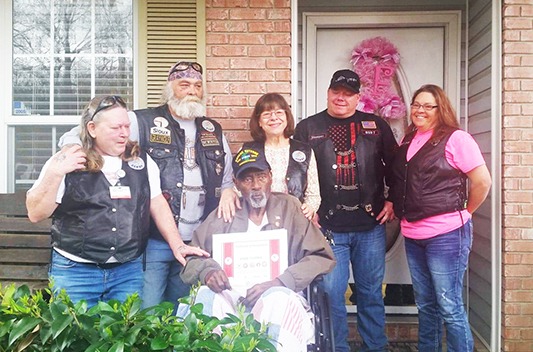 Be rewarded for a lifetime.
Are you looking for an opportunity to be part of a team with a real sense of purpose, to use your skills and experiences or to gain new ones, and to know that your work is making a difference? Covenant Care offers many volunteer opportunities for high school students (minimum age 14) and adults of all ages that will fit into any schedule.
Many of our volunteers wish to provide companionship and support directly to our patients and families. But if this is not for you, there are other ways to get involved that still touch the lives of those who need help. You may decide to assist with fundraising events, office work, or community outreach. Covenant Care volunteers can attend free workshops that prepare them to volunteer in many different ways. Fun workshops that offer training are offered throughout the year in branch offices and other community locations, at times that are designed to fit volunteers' schedules and are also available online for your convenience.
Watch a great volunteer experience here:
Volunteer Opportunities
Care for Covenant Care patients and their family members by making visits or telephone calls, providing spiritual support, giving practical help or a short break for the caregiver.
Volunteer FAQ's
What do Covenant Care volunteers do?
Volunteers are important members of our team and can assist in many different ways.  You can visit patients and provide companionship or provide a much-needed break for a family member who is caring for their loved one.  You can assist administratively in our offices and be an ambassador at our community events.  Some assist in many different ways with our bereavement and fundraising departments.  (For those located in Pensacola and Mobile, there are additional opportunities to volunteer at our inpatient hospice units)
How can I become a volunteer?
Please call Covenant Care at 855-CARE-365 and ask to speak to a Volunteer Manager.
What is the application process/training process?
The Volunteer Manager will provide you with an application packet to fill out.  Each volunteer undergoes a background check.  If you are going to serve patients/families, then you will need a Tuberculosis screening.  Administrative volunteers go through a 2-hour orientation, and patient/family volunteers will go through an 8-hour training.
What is the minimum age for volunteers?
We accept volunteers ages 14 and up.
Why should I become a volunteer?
You will be giving so much back to the patients and families who are in a very vulnerable situation.  You will be volunteering with a company that has served our local communities since 1983 and is well respected.  We will use your talents and gifts. You WILL make a difference!  You ARE needed!
What are some other benefits?
Covenant Care provides ongoing educational meetings.  You will receive regular communication/newsletters from Covenant Care so that you are aware of what is happening with our volunteer department and our company. You will meet many other like-minded caring volunteers and will make wonderful connections. Covenant has a yearly banquet to honor our volunteers.  We provide references and can document hours for those who need it.
Volunteer Activities
11th Hour Volunteers provide a caring presence for hospice patients who are nearing death, to ensure that no one dies alone.
Support family members who have lost a loved one by facilitating support groups, workshops and making bereavement phone calls.
Reach out to kids who have experienced the loss of a loved one by working at Camp Connect  or visit pediatric patients facing a serious illness.
Share your skills in our offices by assisting with reception and phones, computer work, mailings and more.
Raise funds and friends by planning fundraisers, soliciting donations and helping during events.
Represent Covenant Care by acting as an ambassador at healthcare facilities, civic organizations, faith congregations and community events.
Honor Veteran patients through special recognition ceremonies and events.
Serve as a student volunteer and simultaneously fulfill requirements for course work and scholarship programs while gaining valuable skills and experiences as a high school or college student.
Facilitate special projects as a group or an individual. Opportunities range from building wheelchair ramps and doing yard work to cooking, crafting or sewing items for patients and their loved ones.
Give peace of mind to those facing Alzheimer's disease by assisting with Project Lifesaver, offering the caregiver time away, or facilitating support groups.
Please follow links to "Become a Volunteer" or "Current Volunteer" for more information.