Palliative care is specialized medical care that provides relief from the symptoms and stress of a chronic or serious illness. The goals are to improve quality of life for both Patients and Families.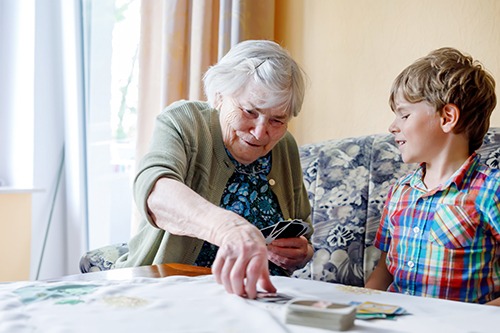 Palliative Care for Patients and Families
Palliative Care improves quality of life for both you and your family.
Palliative care is specialized medical care that provides relief from the symptoms and stress of a serious illness. The goals are to improve quality of life for both you and your family.
Palliative Care is provided by a team of specialists, including doctors, nurses and social workers who work together with a patient's other doctors to provide an extra layer of support. It is appropriate at any age and any stage in a serious illness, and it can be provided along with curative treatment.
Ask yourself the following questions:
Have I been bothered by side effects of treatment?
Have I been forced to spend time in bed?
Is family communication about my illness limited?
Am I having difficulty coping with my illness?
Am I worried my condition will get worse?
Am I having a hard time accepting my illness?
Is my quality of life less than what I want it to be?
If you answered yes to two or more of these questions,
palliative care might be the right answer.
Palliative Care makes all the difference.
Here's what you can expect.
Covenant Care's team of palliative care specialists includes a physician, an advance practice registered nurse and social worker. Together with your own doctor, we make sure that you receive:
Consulting palliative care is easy. Just ask for it. 1.855.227.3365
Palliative Care for Providers
Consulting Palliative Care
You may already have referred to the palliative care team, but if not, just place an order for a referral.
We work together with you and your patient's health care team.
We welcome questions from providers.
Palliative Care Improves Quality of Life and Lowers Symptom Burden
Palliative care specialists improve quality of life for the patients whose needs are most complex.
Working in partnership with the primary physician, the palliative care team provides:
Time to devote to intensive family meetings and patient/family counseling
Skilled communication about what to expect in the future in order to ensure that care is matched to the goals and priorities of the patient and the family
Expert management of complex physical and emotional symptoms, including complex pain, depression, anxiety, fatigue, shortness of breath, constipation, nausea, loss of appetite, and difficulty sleeping
Coordination and communication of care plans among all providers and across all settings
Remote patient monitoring through Care Connect
24-hour telephone support
Numerous studies show palliative care significantly improves patient quality of life and lowers symptom burden. This improved quality of life means an encounter with the healthcare system is less stressful for families.
Palliative Care Improves Care Quality While Lowering Costs
Palliative Care reduces avoidable spending and utilization in all settings.
General Referral Criteria
Presence of a serious illness and one or more of the following:
New diagnosis of life-limiting illness for symptom control, patient/family support
Declining ability to complete activities of daily living
Weight loss
Progressive metastatic cancer
Admission from long-term care facility (nursing home or assisted living)
Two or more hospitalizations for illness within three months
Difficult-to-control physical or emotional symptoms
Patient, family or physician uncertainty regarding prognosis
Patient, family or physician uncertainty regarding appropriateness of treatment options
Patient or family requests for futile care
DNR order conflicts
Conflicts or uncertainty regarding the use of non-oral feeding/hydration in cognitively impaired, seriously ill, or dying patients
Limited social support in setting of a serious illness (e.g., homeless, no family or friends, chronic mental illness, overwhelmed family caregivers)
Patient, family or physician request for information regarding hospice appropriateness
Patient or family psychological or spiritual/existential distress
Patients under the care of multiple medical specialists.
Care Wherever You Call Home
Our goal is to honor a patient's choice to receive care in their own home or a homelike setting whenever possible; but when managing a life-limiting illness at home is not possible, Covenant Care has established relationships with hospitals, nursing facilities, and assisted living communities throughout Northwest Florida and South Alabama. 1.855.227.3365